Tina
Saturday, June 5th, 2021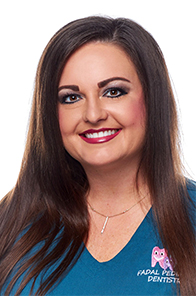 Tina is a dental hygienist that joined the Fadal Pediatric team in 2006 and is dedicated to making our littlest patients enjoy coming to the dentist.
Tina works in both the Longview and Marshall offices, and is also involved in educating students at area schools about the importance of oral health.
Most of Tina's free time revolves around her daughter Maci, and attending softball games, gymnastics and shopping. She also enjoys grilling out with family.