Yadi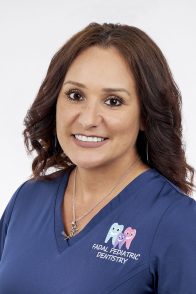 Yadi is a welcome new addition to the Fadal Pediatric Dental practice. Not only is she a capable dental assistant, being raised in Mexico, Yadi is fluent in Spanish.
Being able to communicate with our Spanish speaking little patients helps them feel more at ease. She truly enjoys working with children and learning more about the specialty practice of pediatric dentistry.
When Yadi is not at work, she enjoys, exercise with her husband Robert and spending time riding bikes, hiking and traveling with their four children, Jose, Jocelyn, Andre and Isai.
---
Amanda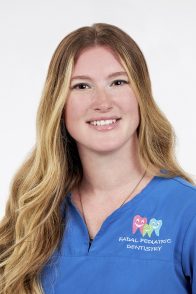 Amanda joined the Fadal Pediatric Dental team in May 2021. She is a Certified Dental Assistant and a U.S. Army Veteran. Amanda loves taking special care of her patients and in her leisure time, she loves being outdoors!
Amanda moved to Texas 12 years ago and she loves it here. She and her husband Jason are the parents of two precious daughters Madison and Chloe.
---
Rebecca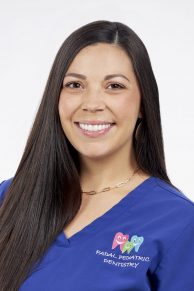 Rebecca is the newest member of the Fadal Pediatric Team. She has ten years of experience as a dental assistant and Rebecca absolutely loves working with children.
In 2015, Rebecca married her high school sweetheart Cameron.
They now have four precious boys that are the light of her life, Camden, Caden, Baylor and Bentley.
Welcome Rebecca!
---
Samantha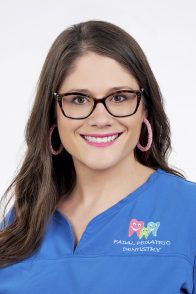 Samantha joined our office in January 2022. She graduated with her Bachelors of Science in Dental Hygiene in May 2010. She has nine and a half years of experience in pediatric dental hygiene, taught Early Childhood Special Education for two and a half years, and has now found her home again in pediatric dental hygiene here at Fadal Pediatric Dentistry!
In her free time, Samantha enjoys spending time with her two nephews, Aiden and Anders, and traveling anywhere and everywhere. She enjoys singing, all things music, is an avid movie watcher and quoter, animal lover, and all things ocean! She has two little girls, a blue Beagle named Fynlee, and an African Pygmy hedgehog named Mina!
---
Erin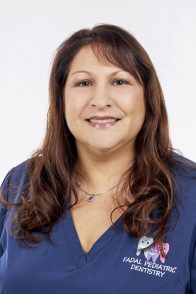 Erin joined Fadal Pediatrics in 2022. She is a Longview native, and received her Dental Hygiene degree from Tyler Junior College in 1996.
She is certified in Nitrous Oxide sedation and sealant application, and has over 20 years experience with implant dentistry. Erin is passionate about educating her patients about proper nutrition and oral hygiene for healthy smiles.
Erin is married to Daniel, and they have 1 son, Adam.
In her spare time, she enjoys working out, cooking, reading, traveling, spending time with her friends and family, and watching her son at boxing lessons.
---
Victoria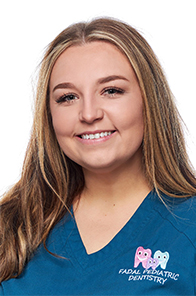 Victoria joined the Fadal Pediatric family in 2019. She was born and raised in White Oak, Texas. When out of the office, Victoria enjoys spending time with her niece, Millie, doing crafty projects, and going to the lake with friends. As a registered dental assistant, Victoria strives to make our youngest patient feel comfortable and create a lasting experience.
---
Jenna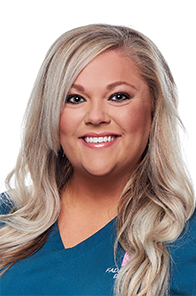 Jenna has been with our office since 2017 and has been involved in dentistry for 14 years. She currently serves as our anesthesia coordinator and strives to put our parents at ease as we care for our youngest smiles. Jenna is from Longview. She and her husband (Hunter) have one child (Rhett). They enjoy spending time with family, going to the lake, and traveling.
---
Elizabeth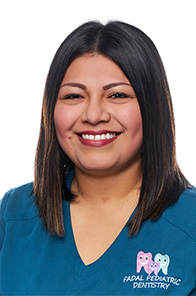 Elizabeth graduated in 2008 from Texas Woman's University with a Bachelor's in Dental Hygiene and became part of the Fadal team in 2017. Elizabeth loves working with kids and teaching them about oral hygiene care so they can have beautiful smiles. Elizabeth has 2 kids, Eli 12 and Davely 4, loves spending time with my family, loves to plant, read and cook.
---
Diana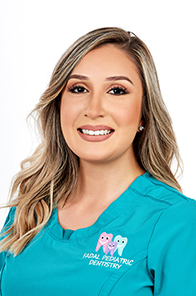 Diana was born and raised in Marshall, Texas. She received her dental assistant certification from Tyler Junior College in 2018. She joined Fadal Pediatric Dentistry in 2020. Diana enjoys working with all her patients, but especially with the little ones. She wants to make sure their dental visits are fun! In her off time, she loves spending time with her husband, Nick and her two daughters, Victoria and Violette.
---
Maria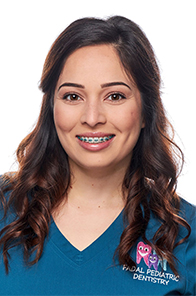 Maria began her tenure with Fadal Pediatric Dentistry in September 2019, as front desk receptionist. Since then she has gone above and beyond to make our patients and their families feel comfortable and satisfied with our services.
Maria was born in California but spent the majority of her juvenescence in Jalisco, Mexico. She is fluent in both English and Spanish. She has a passion for translating between our patients, their families, and our staff.
Maria loves practicing yoga, hiking, cooking, reading, and spending time with her husband and their two big and very spoiled dogs. What separates Maria from most individuals is her honesty and integrity when dealing with patients and their families. She strives to make our staff and practice stand out for others by providing a warm demeanor and thoughtful cheerfulness. Maria appreciates each and every day, and she does her best to reflect that positive internal light and energy to our patients and their families during each visit.
---
Debbie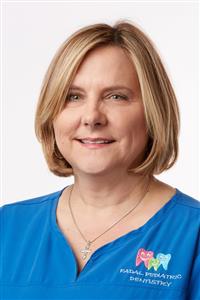 Debbie joined the Fadal Pediatric team in 1986. She started out as a dental assistant and now serves as the Office Manager.
Debbie's responsibilities include overseeing the daily business activities of the practice and attending to the needs of the physicians, staff and patients.
On her days off, Debbie likes to read, spend time with family and relax.
---
Ana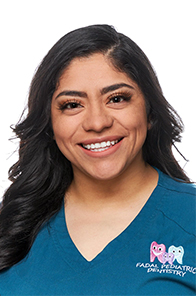 Ana joined our Fadal Pediatric team in 2019, but has been practicing dental assisting since 2013. She was born and raised in Longview, Texas. When out of the office, Ana loves spending time with her three daughters, family and friends. Ana enjoys getting to know her patients each day and loves putting a smile on their faces.
---
Tina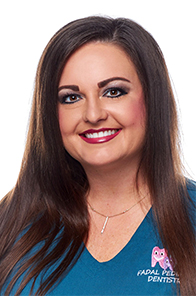 Tina is a dental hygienist that joined the Fadal Pediatric team in 2006 and is dedicated to making our littlest patients enjoy coming to the dentist.
Tina works in both the Longview and Marshall offices, and is also involved in educating students at area schools about the importance of oral health.
Most of Tina's free time revolves around her daughter Maci, and attending softball games, gymnastics and shopping. She also enjoys grilling out with family.
---
Lisa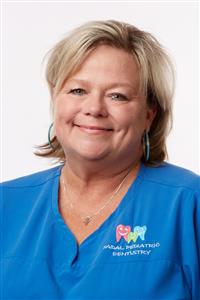 Lisa joined the Fadal Pediatric staff in 2006. She is a native of Longview and received her degree in Dental Hygiene from Tyler Junior College.
She is certified in sealant application and nitrous oxide sedation, and has over thirty years of experience as a dental hygienist.
Lisa enjoys cooking, reading, fishing and watching the Dallas Cowboys. She and her husband Walt have three sons; Austin, Brandon and Collin.
---