Maria
Saturday, June 5th, 2021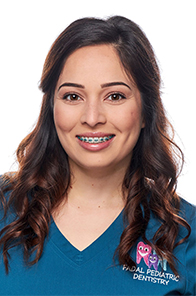 Maria began her tenure with Fadal Pediatric Dentistry in September 2019, as front desk receptionist. Since then she has gone above and beyond to make our patients and their families feel comfortable and satisfied with our services.
Maria was born in California but spent the majority of her juvenescence in Jalisco, Mexico. She is fluent in both English and Spanish. She has a passion for translating between our patients, their families, and our staff.
Maria loves practicing yoga, hiking, cooking, reading, and spending time with her husband and their two big and very spoiled dogs. What separates Maria from most individuals is her honesty and integrity when dealing with patients and their families. She strives to make our staff and practice stand out for others by providing a warm demeanor and thoughtful cheerfulness. Maria appreciates each and every day, and she does her best to reflect that positive internal light and energy to our patients and their families during each visit.